Mumbai, a bustling city of love and dreams is known for its vibrant nightlife. As with the global recognition of India, Mumbai is now practically on the radar of many artists and DJs. The famous nightclubs in Mumbai also work as restaurants and bars and go through a makeover during weekends. Here are some of the best nightclubs in Mumbai to dance your night away and let yourself loose .
Colaba Social
A bar where you can enjoy a peaceful meal with your friends or have a business conversation along with the booze of your choice, Colaba Social is a place where you get together after a long hectic day and enjoy the soothing ambiance of the bar. It has a fun outgoing avatar and the upbeat aspect of the ambiance sets the mood for a fun night. Choose their signature drink or choose from a list of many others on the menu with some eclectic food items to make your day complete. Pork belly chilly, Sam is a chat, fish tacos, ghee roast mutton, chicken wings, Goan prawns, BBQ pork ribs, jalapeno mac, and cheese, etc. are some of the best food items here. Finish off the meal with some lip-smacking desserts off their menu .
The bar opens at 9 am and closes at 1 am and is filled with visitors throughout the day. It has an industrial aesthetic with red brick walls that have murals wrapped around the sunlit room. The furniture is mismatched which emphasizes the lively youthful vibe of the bar. Unlike many bars in Mumbai, Colaba Social is neither very expensive nor very cheap. The prices are reasonable and the staff is very helpful and benevolent. A perfect place for our owls to chit chat with their friends or celebrate a birthday with music playing in the background and perfect food .
The Ghetto
A 25-year-old bar is a place where many people still reminisce beautiful memories from their past. The Ghetto is a pub and lounge situated at Bhulabhai Desai road at Breach Candy which never fails to attract visitors any time of the day. Opened in 1993 by Ravi Shetty and Thomas Cherian, this bar has often been visited by many celebrities such as Aishwarya Rai, Arjun Rampal, Niranjan Kaushik the filmmaker, and many more throughout its lifetime .
The interior of the bar is its highlight. It has a dark-themed interior, blacklight accentuated by neon graffiti and murals of Jin Morrisson, scribbles done by patrons, and a large pool table. It was the only bar at the older times which played rock music and still does. The bar gives off rock chick vibes with its cool interiors and rock music that screams "fun". The bar has seen many people falling for each other and now their kids drop in to have fun. The eclectic menu of the bar has not changed much since its inception which is the reason people come here, again and again, to savor the food items and talk about the good old days. Enjoy your drinks like LIIT, margarita, mojito, beer, gin, and tonic, wine, etc. at a very reasonable price and dance along with the music that changes from techno to rock within seconds. Enjoy cuisines such as Indian, Chinese, Italian, etc. with a chilled beer and a chill ambiance that will not burn a hole in your pocket .
The Bombay Bronx
The Bombay Bronx also known as TBB 2.0 is a must-visit restaurant in South Bombay. Whether you want to go healthy or devour a hearty meal, Bombay Bronx is the place for it. An all-day cafe, the Bombay Bronx at the Breach Candy will never disappoint you .
The aesthetically designed interior of the cafe is super lit and is also an ideal working space along with a fun night. The orange-colored walls are all decked up with numerous photos and the yellow chairs with high tables complement each other perfectly. The aroma of the food entices you to stay longer and try every food item on the menu. From their Chettinad style prawns to child bhatura tacos, from khichya papad sev puri to chives Maggie, to kadhi chawal, you name it and they have got everything. The food tastes better along with their signature cocktail drinks which are Konkan Masala HIIT and Chak De Phatte (which is a blend of 4 pours of whiskey with Kahlua and red bull) and alcoholic beverages such as beer, wine, etc. For our non-alcoholic friends, their smoothies and shakes are also worth a try. Opens from 12 pm till 1:30 am, the bar is a highly visited place by all age members to dance and party and let the stress of the hectic work week go down the drain .
Verbena-Brewpub and Sky Garden
What can be more relaxing than a beautiful pub on the rooftop with amazing drinks and delicious food? Yes, you heard it right. Verbena at Kamala Mills Compound, Lower Parel Mumbai, is one of the best pubs in Mumbai to enjoy the nightlife and is famous for its beautifully designed interior and amazing ambiance. It is a hub that puts your nightlife into the spotlight, Verbena Brewpub and Skygarden offer an addictive and intoxicating vibe .
The interior of the lounge is very catchy and impressive and it houses some wonderful seating arrangement that makes the entire ambiance breathtaking. The open roof is covered with left climbers that act as a natural ceiling, the bright orange chairs along with high brown colored tables perfectly complement each other and the lighting on the pub accentuates the beauty of it all. The bar is long enough to accommodate several people at once to order drinks and the background music adds to the lively and comfortable atmosphere. The lounge also offers live music and plays live matches on screen for entertainment purposes .
The food here is nothing less. From cuisines like Mughlai, Indian, Continental, European, Mediterranean you can have all you want. The drinks are mixed and served by professional bartenders who nail it perfectly. The bar opens from 4 pm to 12 am which is the perfect timing for working professionals looking to spend some relaxing time. It is neither very expensive nor very cheap for a common man but the services offered here are worth every penny .
London Taxi Gastropub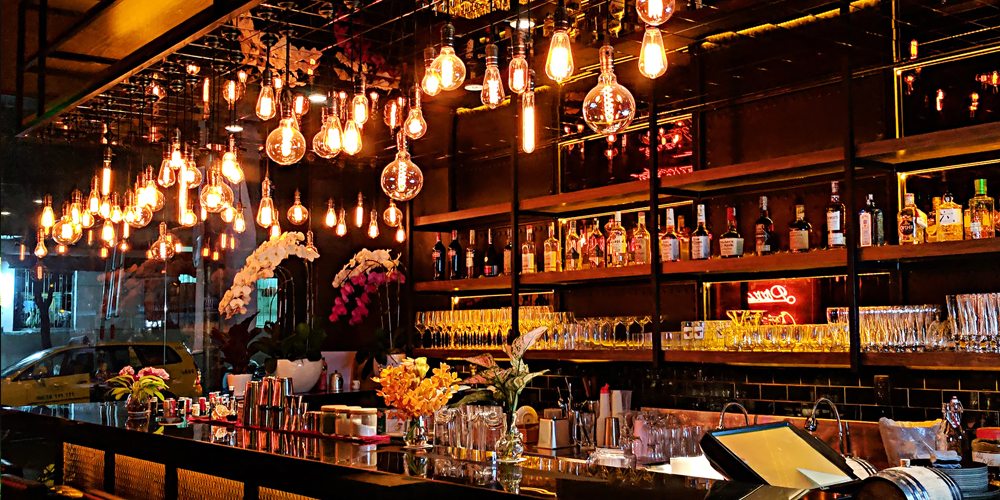 The London Taxi Gastropub is a cozy lounge with vibrant decor, condoned seating arrangement, and music that will compel you to tap your feet. It is the most favorite of many, including people of all age groups. The bar oozes a lively vibe that is family-friendly and full of fun. The menu in itself is an exercise to choose from with an extensive range of options. Their must-try is BBQ chicken pizza and Jalapeno Cheddar Chicken tikka which will make your palate dance with ecstasy. Other food items such as Roasted Cauliflower Miso soup, Samosa Tostadas, Korean Chicken Noodles, and Cranberry Koftas are also to die for. The desserts are on the other level altogether. Their Belgian Dark Chocolate Whiskey Mousse will leave you drooling .
The drinks are made by professional bartenders and mixers in the city. The 'Rose and Cucumber Gin n Tonic' tops the list of the most sold-out beverages. You can have other alcoholic drinks as well as non-alcoholic drinks also. The place has soothing background music throughout the night and lives music performances too. There is a separate smoking area, DJ, a dance floor for you to enjoy to your fullest. The bar opens at 12 noon till 1:30 at night. A perfect place to enjoy your weekend along with the hustle-bustle of the film city .
Agent Jacks
The one and only Agent Jack's is the most awaited bar in every city. It is the first themed bar where you get to bargain with the bartender for the price of your drinks. Sounds fun right? The customers just have to download an app and follow some steps to get ready to bargain for their drinks with the virtual Agent Jack. It is up to Agent Jack whether he agrees or disagrees with the bargain and every rejected offer by him is followed by a witty comment to provoke the customer to try again. All the conversations by the customers are shown on a large projector screen which adds to the lively and humorous environment of the bar .
The interior of the bar is brightly lit with wooden chairs and tables to accentuate its beauty. The walls have beautiful black and white tiles and a huge bar sits at one side. The food here is not your commonly served meal like in every restaurant or pub. Loaded cheese fries, Malaysian chicken, garden pizza, chicken platter, nachos, cheese basket, Italian pasta with cherry tomatoes are some of the food items that will satiate your hunger and satisfy your palate. The drinks are served by professional bartenders who are experts in making delicious cocktails. Live music, DJ, dance floor, all are available for your fun night. The bar opens at 1:30 pm and closes at 1:30 am. It is a bit on the expensive side but every penny is worth spending here .
The Bar Stock Exchange
Conceptualized on the idea of our stock exchanges, The Bar Stock Exchange is an unusual, fun, and cutting edge concept that offers the customers a chance to do trading in alcohol and spirits with prices from very low to super expensive. India's first bar operates in the same way as that of a stock exchange. The prices of the drinks here change as per the real-time demand which gives the customers a feeling of trading in a real stock exchange. The hours you spend here are the happy hours where the prices of the drinks are in your control every time and any time. It is a technologically advanced bar where you can even order a drink with the help of an app that lets you look at the real-time prices of the drinks and order as per your choice. Customers can also compete with the system and other customers to bet the best price to grab the drink .
A "must-visit" place to enjoy your favorite drinks because the bar has all and to revel in the feeling of trading drinks in a stock exchange bar. Along with reasonably priced drinks the bar also has delectable food. Some of the best items are Thai basil chicken, misal pav fondue, messy lamb burger, khatta meetha fish, and chips. The bar is open from noon to 1:30 am and is a sensation in every single city it has its branches .
Old Wild West
As the name suggests this place offers the perfect ambiance and vibes for wild party lovers. The bar is situated at Lower Parel, Mumbai, and is a phenomenon among millennials. The interior is a cowboy-themed design with a blend of modern and classic decor with sleek wooden chairs and tables and plush leather sofas and red brick-lined walls. The dimly lit atmosphere of the bar makes it cozy and relaxing, a perfect place to socialize and enjoy your night. The bar has a separate space for selfies where people can click their selfies with cowboy hats and guns .
The bar has delicious food with soothing music and live sports screening for sports enthusiasts. They also host live music which is a cherry on top. Let your palate devour the flavors of Mexican, Indian, American, and Continental cuisines along with some refreshing drinks. Their must-have items are chicken wings, tiramisu, chimichangas, veg fajitas, and mocktails. The long bar serves an extensive range of alcoholic beverages from cocktails, mocktails, wine, etc. The staff is super-efficient and very helpful which makes the place a perfect fit for a get-together with friends or a bachelor or birthday party .