Delhi is known for its rich history and delectable food, but this is not all that it offers! The happening nightlife of the city is yet another of its interesting facets. Yes, the national capital region of New Delhi is a bustling city which is also famous for its nightlife .
It is a wonderful scene – to witness the old and the young, the locals as well as the people from other cities, mingle so easily here – this blend of traditional and modern elements is seen in Delhi's nightlife as well as its food and architecture .
So, if you want to experience the city's incredible nightlife with friends, partners, family or even by yourself, read on to know about some of the best places you must explore here!
Ghungroo
When the people of Delhi say "those were the good old days", they are probably talking about Ghungroo. Opened in 1978, Ghungroo was the pioneer of nightclubs back in the day. It was then located at the ITC Maurya and now has reopened after a short sabbatical at the WelcomHotel Dwarka with a mission to provide entertainment with good food and a safe environment .
The new location of Ghungroo is ideal for the partygoers because of its proximity from Gurugram, Vasant Kunz, and Vasant Vihar which have become the hotspot for youngsters. The music at Ghungroo is diverse ranging from songs of the 90s to the current Indie-pop. The club also has dance shows in the songs of different eras for the guests. So before burning the dance floor yourself you get to see the rich culture of India and the history of Delhi at Ghungroo. The dance show is then followed by the delectable and appetizing dinner at Angara which includes all North Indian cuisine and BBQ items. A truly delightful experience to have with the stunningly executed design, food, and good music that will make anyone dance with pure joy .
Cost: rs. 1500 approx. for two without alcohol
Agni
As the name suggests, Agni which means Fire is a nightclub at The Park hotel which, figuratively speaking is FIRE. One of the hottest nightclubs in Delhi, Agni is famous for its variety of drinks and fabulous dining options .
From martinis to margaritas, and mimosas, all are available here which work as fuel for the wicked fun on the dance floor. The bar has a 35-foot-long counter behind which the best mixologists of Delhi work their magic to create some fun and unique drinks. Agni has 4 different dining options to choose from: A la carte Dining, Romantic Dining, Group Dining, Private Gatherings. Each dining option has its features and you can book your table depending on the company or mood .
The club has a full bar and is fully air-conditioned, wheelchair accessible for everyone to enjoy a good night out the opportunity, valet parking, a separate smoking zone, awesome DJs, amazing food, and a huge dance floor for you to show those moves. Their finger food is especially a must-try after all that crazy dancing .
Time: 5 pm to 12 am All week
Cost: rs. 4000 for two
Raasta
What can be more exciting and thrilling than to dine with your loved ones under the sky in an open-air lounge bar? Raasta brings you the thrill and the escape you need from the everyday hectic and cathartic life. A lounge bar that serves international fast food and cocktails on the rooftop, Raasta is perfect for a cozy and casual night out with friends and dear ones .
The artfully and tastefully ornate interior emphasizes the Caribbean ambiance which is quite relaxing and the soothing music that plays in the background is perfect for dining as well as clubbing. For your hunger, you can choose from a myriad of options - falafel, jalapeno cigar rolls, cheese balls, and many more .
You can also enjoy a variety of drinks such as different mocktails, cocktails, and alcoholic beverages. The mocktails are served in funky tumblers here and the funkiest of them is the Bong tail tumbler. For non-alcoholic guests, there are several types of shakes and the chocolate brownie shake and Oreo shake are the most ordered. Located in the bustling and lively Hauz Khas village complex, Raasta is a fairly priced lounge bar that has got everything to brighten your night and make it an unforgettable experience .
Time: 12 pm - 10 pm
Cost: rs. 2350 for two
Kitty Su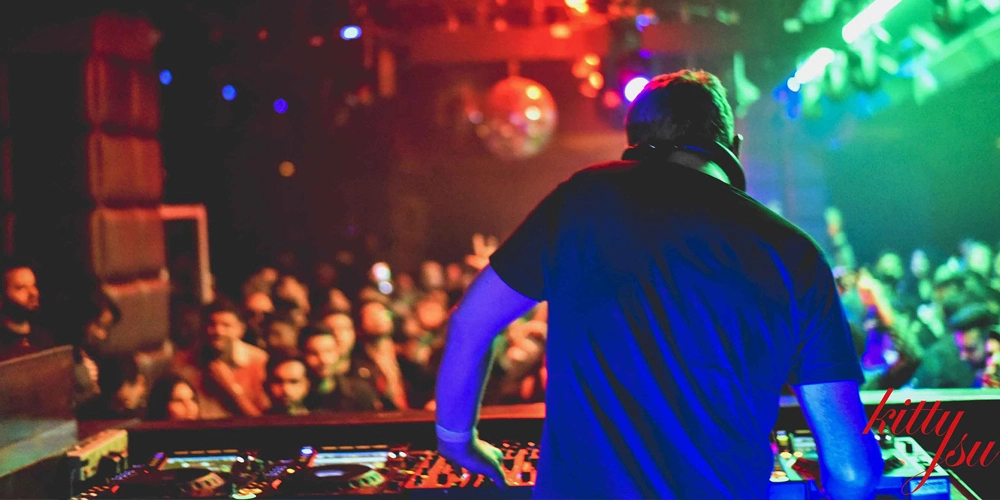 One of the best and the classiest nightclubs in Delhi, Kitty Su will make you want to be on the dance floor all through the night (I mean until the closing hours). But you understand the feeling, right? Kitty Su is the only club in India that made it to the top 100 list of DJ Mag's best clubs in the world. Situated at the Lalit Hotel, Connaught Place, this nightclub offers the right ambiance, delicious food, several varieties of cocktails, and alcohol. This classy, radiant, and exquisitely organized themed nightclub delineates the atmosphere of happiness and freedom and is one of the top spots for people who are hardcore partygoers .
The club is divided into four sections- Salon, Stay with us, List, and Dressing room. Every section has a distinct theme and you encounter a different vibe each time you move from one section to another. For our dance lovers, it is truly a place of joy as the dance floor at Kitty Su is vast and the incredible sound system produces sound in supersonic waves that makes it a perfect disco experience. The club also hosts concerts of the different national and international bands so expect to bump your shoulders to someone in every frequent minute. But this crowd makes it even more pleasurable and nighttime worth experiencing .
Time: 10pm-1am (Wed-Sun), 7pm - 1am (Tuesday) closed on Monday
Average Cost: rs. 5000 for two including alcohol
Fork You
If you are lacking in money but want to enjoy a fulfilling and vibrant night that has finger-licking food and great service, then Fork You is the perfect place for you. Decorated with golden wooden planks Fork You has become the hot spot for the young geeks. From the dim and soothing lightning to the elegant music the place buzzes with life. You can even book the venue for birthday parties, anniversary parties, or any kind of social gathering you want to have. The place gives off vibes of a cozy and casual setting and the food is also fairly priced for a good party under budget .
The menu has some amazing cuisines to choose from such as Asian, Mediterranean, Italian, and Continental. Their steak and burgers are to die for. Enjoy the food with different types of smoothies, shakes, and alcoholic beverages which are made by expert mixologists. Situated at the effervescent location of Hauz Khas Village, Fork You is an ideal location for people of all ages to enjoy live music, divine food, inventive cocktails, and to dance your heart out .
Time: 12 pm - 1 am All week
Cost: rs. 800 per person
Hard Rock Cafe
A vibrant spot in the heart of DLF Place Mall at Saket, Hard Rock Cafe has seen many parties, children turning to young adults, people falling for each other, and many reunions. A go-to place for office goers, cosmopolitans, and even tourists, the American restaurant is all you need to alleviate some stress and spend some leisure time. The red-colored rock 'n' roll theme design with wooden painted tables and black leather sofas, Hard Rock Cafe hums with high energy vibes and liveliness .
As soon as you enter the ambiance and the decor engulfs you in its charm and music playing in the background locks the seal. The walls of the cafe are adorned with musical instruments and other equipment used by rock stars around the globe. The place has a separate section for live performances, dining, and bar. The big and bold name of the cafe marked on the entrance makes a nice spot for selfies. Hard Rock Cafe is also known for its amazing food and especially the lip-smacking American burgers and BBQ ribs with the spicy sauce dripping from it. Not only this, crispy French fries, burgers from different countries, cheesy onion rings, cheese nachos are some of the food items that make people come here again and again .
The bar has some amazing and refreshing drinks to try ranging from alcohol, cocktails, and mocktails. It even has non-alcoholic fruity drinks and vegetarian food for every kind of guest. The aura of the cafe is so laid back that it entices you to linger more. The price is also not very high so you can enjoy your nighttime to your fullest and dance until your legs are numb .
Time: 12 pm - 1 am
Cost: rs. 2000 approx. for two
Little Owl Cafe
When your day went a little rough or you are feeling a little lethargic, nothing can beat good fast food at that time. Hidden from the hustle-bustle of the crowd but located at the prime spot at Sector 18 Noida, Little Owl Cafe attracts many baby owls from across the city. Open from 8 in the morning till 1 at night, this little cafe serves its customers up to the fullest .
Their must-try food items are the veg and non-veg sandwiches and burgers, different kinds of pasta, garlic bread, and patties. You can take out the food or even dine in. For a complete fun night try the Hookah also which also comes in a variety of flavors. The most amazing part is you can have your stomach loaded and still won't spend half of what you would pay in a decent restaurant. People come here to enjoy some time with their friends and family and have a great meal served by a very patient staff. You can even have home delivery if you don't feel like going out. Have a meal sitting inside the cafe or in the open air outside it's up to you .
Time: 8 am - 1 am
Cost: rs. 500
Mocha Arthouse Cafe
If you are an art lover then this cafe will satisfy the artist in you. Situated at DLF Promenade Mall, Vasant Kunj, the Mocha Arthouse Cafe is the epitome of beauty. Famous for its creative design and artistically decorated interior, Mocha Arthouse Cafe has everything you need for a memorable night .
Located at the hotspot of party-goers in Vasant Kunj, the cafe sees an abundant number of guests every single day. Come with your friends and enjoy the live music it offers while sitting inside or on the open-air patio on those unusual sitting stools. The next best thing about the cafe is its food. Try from the different varieties of cuisine it offers such as Indian, Mexican, American, Italian, Continental, European, etc. Their must-try food items range from enchiladas, paneer tikka, Chef Dogra's Pahari meat, pancakes, several varieties of sandwiches, pasta, etc. Have the taste of several different countries in one place while watching live matches screened on the big TV screen. As yes, don't forget to have dessert .
Well, the list does not end here. Along with the interior and food, the cafe offers a range of equally amazing drinks that alleviate your quench for thirst and booze. From alcohol to cocktails and mocktails, you just need to say it and it will be made available to you. The most ordered drink is their long island iced tea and different cocktails. Not only this, there are options for our non-alcoholic friends also. Try their cold coffee, shakes, masala chai, or hot chocolate and you won't be disappointed. A perfect spot to take a break from the hectic life or shopping and enjoy the buzz of human interaction while having delightful food with amazing drinks and ogling at the artistic beauty of the cafe .
Time: 11 am - 11 am
Cost: rs. 1500 approx. for two