The bustling city of Mumbai is one of the most expensive and crowded places in the world. It is famous for many things and the best restaurants are one of them. Whether you have a date, a get-together, or a family outing, Mumbai has everything to cater to your whims. It is beneficial to know which restaurants to go to that will make your dining experience memorable without wasting your time searching. Here are some of the must-visit restaurants in Mumbai .
Tanatan
Ever wondered what it would feel like if you were treated like royalty, with a grand welcome and luscious food? If yes, then you ought to visit this very famous restaurant in Mumbai ASAP. Located in Juhu, Mumbai, Tanatan has opened its gates with a mission to serve its guests like kings and queens. As you enter you will be taken back to the medieval era with the interior mostly in the brown-orange shade, the walls all decked up with antique copper collectibles, and mosaic and Indian motifs adding to the Maharaja-Rajwada atmosphere giving off rich monarchy vibes. The guests are welcomed in regal Jodhpuri style and escorted towards their seats .
The food here is to die for. For starting your meal Crispy Jheenga Curry Leaf Broth or Kaffir Lime Roasted Tomato Rasam is the best. Sarson Broccoli, Palak Dahi ke Kebab, Kumbh ke Galawat, Bhuna Chaap, or Mirza Sahab ke Gosht ke Kebabs is a must-try for appetizers. Other scrumptious food options like Neer Dosa with Mushroom Green Peas Gassi, Asli Pindi Chole with Stuffed Kulcha, Lamb Shank Pulao with Raita or Butter Chicken with Laccha Paratha will have a blast in your mouth and you will surely be in a food coma. Have this amazing food with refreshing drinks the restaurant offers such as Angrezi Martini, Juhu Kala Khatta, Santra Mantra, Sharabi Kava, Fiery Jugaad, etc., and many more. The restaurant opens at noon till 1 am so you have a lot of time to try as many dishes as you like .
Cost for two: Rs.1500
Manuhaar-The taste of tradition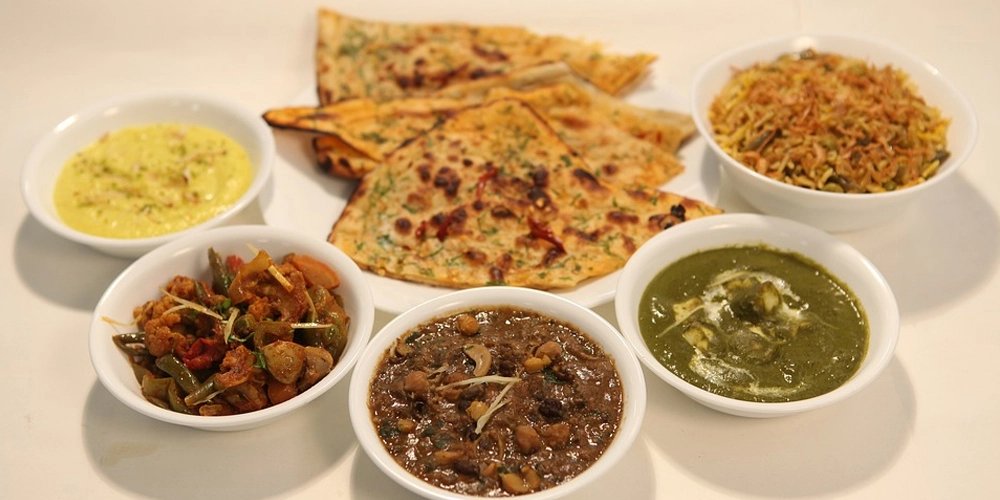 Get lost in the perfect amalgamation of Gujarati and Marwadi flavors served in a single thali. Manuhaar is located in the Sahara Star Hotel near Chhatrapati Shivaji International Airport and is one of the best restaurants in Mumbai. It specializes in serving vegetarian food inspired by two different states, Gujarat and Rajasthan. The simplicity of the people from the west coast is best reflected in the soothing and cultural ambiance of the restaurant .
Manuhaar focuses on offering authentic vegetarian delicacies in a thali that is the best way to enjoy the flavors of India. From Dal Bati Churma to Gujarati Kadhi, Manuhaar offers a fine dining experience for every guest. The thali includes 1 welcome drink, 1 chair, 3 Farsan, 4 curries, rice, varieties of dal, kadhi, dal bati churma, different flatbread, and dessert. Lunch timings are 12 pm to 3 pm and then 6 pm to 11 pm which specifically targets Jain people who follow chauviyaar tradition. The classy wooden decor with handpicked artifacts, floor-to-ceiling windows, cozy leather seating, and soft traditional playing in the background contribute to the homey atmosphere of the restaurant .
Cost for two: Rs. 3000
Citrus Cafe
When searching for the best restaurants in Mumbai, Citrus Cafe will surely be on the list. Specializing in Indian and Continental cuisines Citrus Cafe has a plethora of items to choose from. It is a 24/7 multi-cuisine restaurant with an open kitchen and an eclectic menu to devour. Kickstart your flavorful journey with their delicious Creamy Sweet Corn Soup or Murgh Dhaniya Shorba. Appetizers such as Aloo papadi chaat, Paneer tikka, Amritsari Fish fry must not be missed. For the main course Butter Chicken Masala, Fish curry, Rogan Josh, Subz Kadai, etc. are there to make you swoon with delight .
If you want to try something different go for their Continental options such as Lemon Tree Mac N Cheese, Ravioli, Fish and chips, Penne Rigate, Grilled Prawns, and their signature Citrus Club Sandwich and Cafe Burger. The restaurant is family-friendly with efficient staff and a comfortable ambiance. The pleasing music playing in the background is a contributing factor to the soothing atmosphere of the restaurant .
Cost for two: Rs. 2000
Pizza by the Bay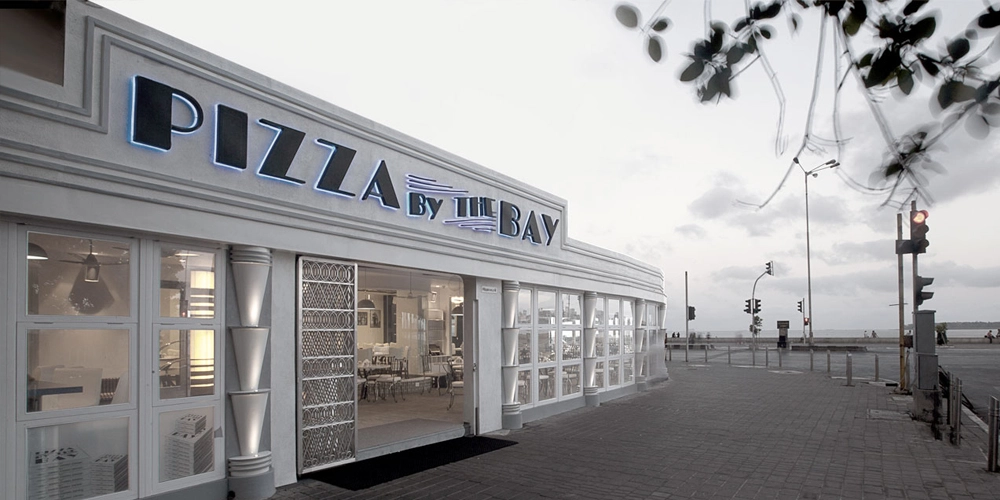 What can be more heartwarming than a delicious breakfast near the bay with the sound of lashing waves on the shore? Pizza By the Bay is a beautiful and cozy restaurant in Churchgate, Mumbai, where you can start your day with a scrumptious and lip-smacking breakfast that will leave you ecstatic throughout the day .
Choose from a range of various pizza toppings and their new smokey flavored pizza, Mac 'n cheese pizza, and Flambe pizza must not be missed. They have waffles with fillings such as grilled chicken and lettuce, grilled veggies and cheese, peanut butter and banana, crispy bacon and egg, and much more. If you are craving something sweet then their pancakes with flavors such as white chocolate and apple, Oreo cookie, chocolate brownie, blueberry and banana, oatmeal, strawberry, and banana, etc. will satisfy your yearnings. Apart from this, you can have pasta, sandwiches, garlic bread, French fries, cheesecake, chicken tikka, etc. The restaurant also serves alcoholic beverages to go with your meal. The restaurant has an artistic and beautiful aura inside out and the salty smell from the Arabian sea makes it feel like you are on a vacation. After finishing your meal, you can take a leisurely walk down Marine Drive. The restaurant opens from 12 pm to 12 am on weekdays and from 8 am to 12 am Friday to Sunday .
Cost for two: Rs. 2000
Peshwa Pavilion
How about a fine meal at a grand restaurant at Hotel ITC Maratha? Yes, you heard that right. Peshwa Pavilion is a grandeur of a restaurant inside ITC Maratha Mumbai which oozes warmth and comfort and the aromas of different cuisines fill your senses with delight. The natural light that filters in enhances the beauty of this restaurant and its cheerful and glorious ambiance. The menu here caters to every palate and boasts of local and organic produce .
Apart from its extensive A la Carte menu, the restaurant also has a buffet for breakfast, lunch, and dinner which is very popular too. The presentation is very aesthetic and the portions are large enough to feed two in a single order. Caesar salad, New Zealand lamb chops, Murgh Masaledar Biryani, Nasi Goreng, Pavilion Chocolate Fudge with jaggery sauce are some of the must-try dishes. The restaurant specializes in Indian, European, and Continental cuisines. From the delectable appetizers such as Lean bacon and jalapeno quesadilla, double egg double chicken Kathi roll, paneer tikka, French Onion soup, etc. to their second-course meal such as Napolitano laal maas, crisp crumbled chicken burger, Maharashtrian fish curry, they have it all. Finish your meal with the dreamy desserts they have on the menu. The restaurant also serves alcohol to its customers .
The restaurant is sprawled in a spacious lobby level area surrounded by arched hallways. Comfortable wood matted furniture with plush seats contrasts beautifully with the white arches. Palm trees surrounding the area bring in the coastal vibes and the elegant decor makes the restaurant a perfect place to dine in and relax after enjoying your day. The restaurant opens early from 6:30 am till 10 pm .
Cost for two: Rs. 5000
Mabruk
Yet another restaurant that is housed in a luxury hotel is Mabruk. Mabruk is located in the lobby area of the Sahara Star Hotel at Santacruz, East Mumbai, and treats its customers 7 I'm onwards to accentuate the beautiful and exotic Middle Eastern style decor. The restaurant specializes in Middle Eastern cuisine that is not very commonly seen and caters to every food palate. The ambiance of the restaurant is cozy and comfortable with drapes all around the area. The drapes give off the vibes as if you are dining in a tent with wooden matted tables and plush leather couches. Although the restaurant is indoors, the seating area beside the pool makes it a charming place to dine .
Lebanese and Mediterranean feast is served here with authenticity. Start your course with Lebanese salad Tabbouleh or devour falafel, sambousek, batata harra, riyash, kafta meshwi, foul madamas, which taouk, and Mabruk arayes. Next, munch on the mains of the Middle Eastern such as arayes Laham, manakeesh, tagine Laham, sharia medfouna mushroom, falafel mushroom, shawarma, and imam bayildi. Spoil yourself with some delicious Middle Eastern desserts such as baklawa, knefeh, and al set, etc. Alcohol is not served here so you will have to go with the Lebanese drink Koshaf or Airan with your meal. The prices are a little high here so we suggest you go with a thick wallet .
Cost for two: Rs. 4000
Namak
The Sahara Star Hotel houses many different restaurants specializing in multi cuisines and one of them is Namak. Specializing in North Indian cuisine, Namak also has dishes from all over India as its name suggests. The restaurant overlooks the sprawling gardens and the natural light streaming in enhances the golden glow of the restaurant. It has an open show kitchen where you can see the chefs milling around and preparing your meal. The restaurant has a homey atmosphere with low wooden tables and light orange heavy plush chairs .
Some of the few must-have dishes are jumbo prawns, chicken biryani, butter chicken masala, chicken tikka, dal makhani, fish, dosa, idli, sambar, etc. Alcoholic beverages are also served here to go with your drinks. Their mocktails are very refreshing and unique. The restaurant is operational from 6 pm to 11 pm .
Cost for two: Rs. 2300
East Asian Spice Trail (E.A.S.T)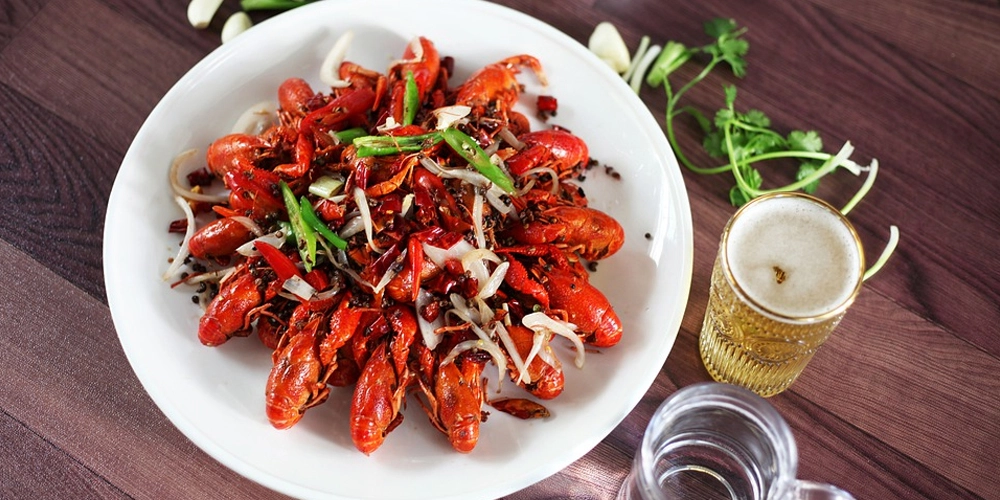 As the name suggests, this East-inspired restaurant is one of the best restaurants that presides in the Hotel Sahara Star and is also very popular in the film city Mumbai. The full name of the restaurant is East Asian Spice Trail and it serves unique cuisines to its customers from different Asian countries .
The ambiance of the restaurant is very regal. The decor is all black with yellow and orange lighting illuminating the walls and light-brown wooden chairs and tables bring in the contemporary feel. The service here is excellent and the staff makes sure to be respectful without being pushy. The menu has items from pan Asia but the cuisines that dominate are Chinese and Thai. Delicious garlic rice, jasmine rice, and fried vegetables are common complements with most of the dishes. Potato wedges tossed in Thai spices, Som Tum salad, open dumpling Sui Mai, tofu with garlic tomato chili, haka noodles tossed in different veggies and chicken, prawns noodles, Kung pal chicken, and many more. You will be confused as to what to eat and whatnot. Finish your meal with some scrumptious desserts such as Pandan coconut jelly, wasabi ice cream, dark chocolate cremaeaux, etc. The restaurant also serves alcoholic beverages and refreshing mocktails. The soothing music fills the atmosphere with delight and adds to the loveliness of the ambiance. The timings here are noon to 3 pm and then 7 pm to midnight .
Cost for two: Rs. 2500
The Bombay Canteen
The Bombay Canteen has gained popularity due to its lovely ambience, scrumptious food, and generous staff. Located at Lower Parel near Radio Mirchi Office, the Bombay Canteen is always filled with food lovers from across the city of Mumbai. Choosing from the list of food items is an exercise itself because of the populace of dishes they serve. From Veg Mutton Kofta to Himachali Rajma Roll, from Toor Samosa Chaat to Desi Tacos, and many more unique dishes that are traditional yet innovative with a touch of "Bombay love", you are in for a treat. The dim yellow and blue lighting of the restaurant goes well with the wooden themed interior that is relaxing and charming at the same time. Not only the food, but their drinks are also a must-try especially the cocktails. The eatery takes special efforts in plating their dishes that you won't be able to resist taking a picture for your Instagram story. The restaurant is operational from noon to 10 pm .
Cost for two: Rs. 2000