om beach
Get ready for a scenic retreat at Om Beach when you plan a trip to Gokarna, Karnataka. Named after its shape, Om Beach has one of the most spectacular landscapes and a serene environment to indulge in solitude and is a wonderful respite for adventure lovers who love the thrill of several water activities. Om beach in Gokarna carries a religious significance because of its geographical appearance as the symbol 'Om' and is thus deemed highly auspicious among the locals.
Famous for its stunning dawn and dusk sightseeing delights, Om beach is heaven to photographer buffs with its gorgeous surroundings and the marvelous panoramic views of sunset and sunrise casting its light on the blue waters of the Arabian Sea. Make sure you have your camera with you to capture some of the most beautiful shots and the memories you will make. The golden-white sand is soft and delicate and the rock formations on the beach enhance its beauty.
You might see the fishermen's boats throughout the coastline and may witness some of them busy with their deep-sea fish-catching activities. If you know the local language then you might get lucky and get some insight into their daily lives and their tricks for catching the fish. Apart from a peaceful stroll on the beach and swimming, you can also enjoy the many watersports on the beach such as banana boat rides, bumper rides, jet skiing, speed boating, scuba diving, etc. Other interesting activities such as Dolphin sightings and trekking like adventure activities are also done on the beach.
Things to Do in Om Beach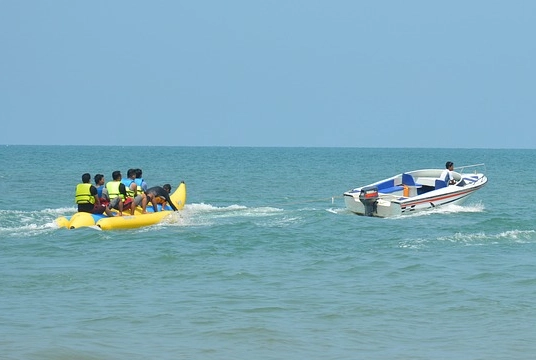 Watersports
Watersport activities such as scuba diving, banana boat rides, bumper rides, speed boating, and many more are available on booking in Om beach. Relish the thrill of adrenaline and make your trip a memorable one.
Dolphin Sightings
Dolphins are often spotted on the beach. The fishermen offer rides to the location where it is likely to spot a dolphin. Capture the moment as the beautiful mammals jump in and out of the seawater.
Photography
With a magnificent landscape and the most stunning visuals of the sunset and sunrise, no one can resist capturing the images of this beautiful Pinterest-worthy beach.
Sunbathing
Om beach has a serene and peaceful environment and is the best place to have some alone time away from the complications of life. Relax on the sea lounges or take your beach umbrella and mat to bask in the warmth of the sun and relieve your stress.
Play Sports
Sports such as volleyball and football can be played here. The feel of the soft sand beneath your feet is rejuvenating and the cool air wafting through your face has a relaxing sensation to it.
When visiting Om beach make sure you visit these following tourist attractions that are close of the beach and are easily accessible too.
1. Mahabaleshwar Temple
2. KotiTheertha
3. Paradise Beach
4. Anshi National Park
5. Mirjan Fort
6. Kuddle Beach
There are many food stalls at the beach and in its vicinity too. Devour the authentic coastal delicacies as well as traditional Indian cuisine in the following eateries near Om Beach.
1. Namaste Café
2. Surya Café
3. White Elephant Restaurant and Café
4. Sunset Café
5. Mantra Café Gokarna
How to Reach Om Beach?
The popular Marina Beach can be reached by air, train and on road too. Below are the ways that can be taken to reach the Beach:
By Air: The nearest airport is Mangalore International Airport which is located at a distance of 238km from Gokarna town. After reaching the airport you can easily reach the beach through hired taxi or local buses.
By Train: You can reach Gokarna through Mumbai, Mangalore, and Goa easily via Konkan Railway which passes these cities. Furthermore, trains are available from every major city of India to Gokarna. From the station, you can hire a cab or take a local bus or auto-rickshaw to reach the beach.
By Road: Gokarna is located 59km, 483km, and 238km from Karwar, Bangalore, and Mangalore respectively. You can take buses from Panaji, Karwar, Mangalore, and Bangalore. When you reach Gokarna, you can hire a taxi or an auto-rickshaw to cover the rest of 6.5km to reach the beach.
Best Time to Visit Om Beach
The beach area experiences a tropical climate. Summers here are hot and humid, while the coastal area witnesses a heavy rainfall during monsoons. The best time thus to visit Om beach is between October and March when the weather is pleasant and the current is not too high. This is the peak season and you can expect a huge crowd.