The so-called tech city of Bengaluru (earlier known as Bangalore) not only has stunning infrastructure but also has a rich heritage manifested through the architecture of its various buildings.
The amalgamation of these historic and contemporary edifices must be experienced in this city rich with several amusement parks, heritage buildings, wildlife parks and exquisite natural landscapes.
Here we have created a list of some of the best tourist attractions in Bangalore that are a must-visit for anyone planning a trip to Bangalore, especially for the first time.
Cubbon Park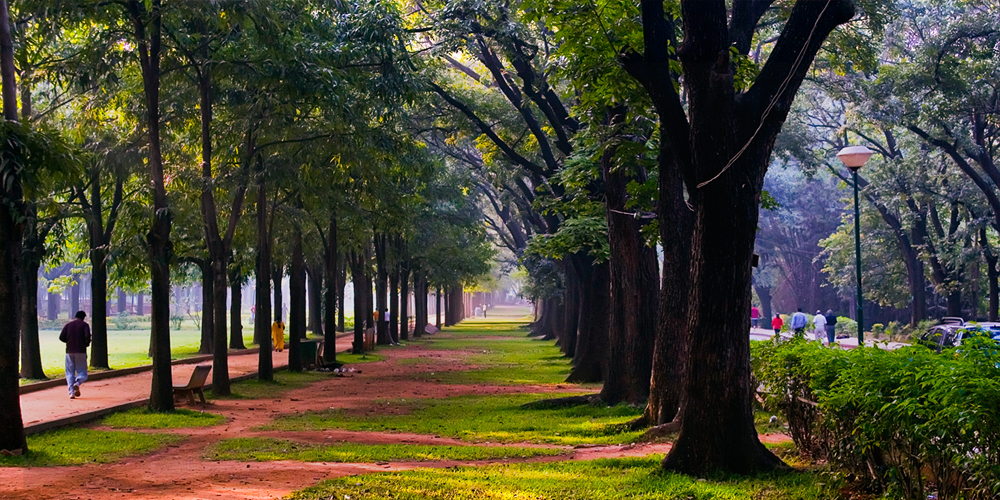 Sprawled in 300 acres of land, Cubbon Park in the metropolis of Bangalore is one of the most visited tourist attractions. It's a green belt area of the metropolis and a perfect spot for nature nuts or those seeking solitude. The Park is named after Lord Cubbon who commissioned its construction and is home to luscious green trees supporting a vibrant ecosystem. Apart from being a natural exploration spot, some of the other edifices of the tech city such as the Attara Kacheri, Cubbon Park Museum, and Sheshadri Iyer Memorial Park are also here along with the second-largest edifice The Bangalore Aquarium.
Primarily, the premises was called " Meade's Park " in the name of Sri John Meade and thereafter came to be recognized as the Cubbon Park. Since the prelude of the premises, it was made and improved in multiple ways. In 1927, the park was officially retitled as " Sri. Chamarajendra Park " to celebrate the Silver Jubilee of the reign of Sri. Krishnaraja Wodeyar in Mysore State. A perfect location for a family day in a soothing atmosphere under the blue gazing sky.
Lalbagh Garden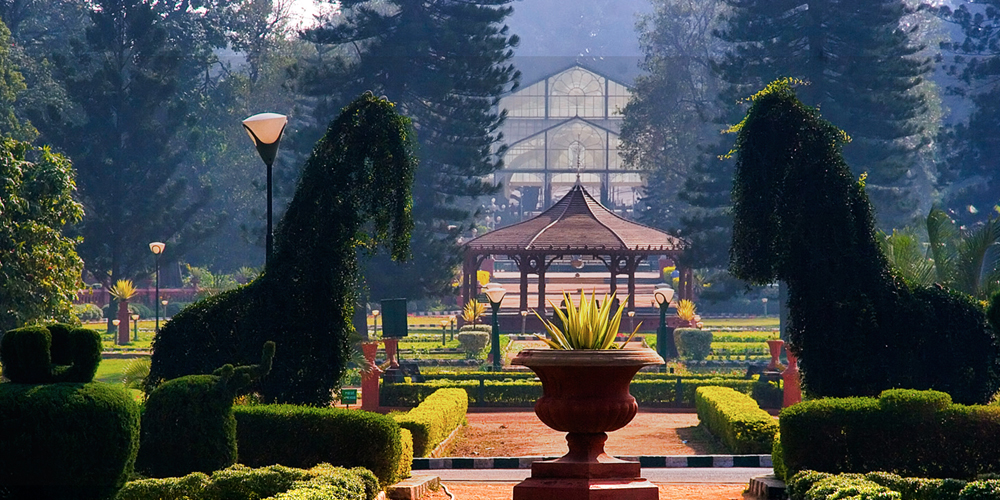 One of the ancient and unique botanical gardens in not only Bangalore but in the whole of India. Lalbagh Botanical Garden is a famous tourist attraction in Bangalore with strategic routes, several glasshouses, and decorative flowers adorning the garden property. The garden is sprawled in 240 acres of land which was commenced by the ruler Hyder Ali and his son Tipu Sultan then finished the project.
Some unordinary exquisite flowers and plants were brought here from countries such as France, Afghanistan, Arabia, Persia which became the sight of attraction because these kinds of flowers were never witnessed in India before. A flower show is held twice a year where spectacular flowers are arranged to make figurines and structures. Additionally, you can also glimpse some rare birds like Pond Heron, Myna, Parakeets, Purple Moorhen, Brahminy kites, egrets, and many more. One more attraction of this garden is the Lalbagh rock which is 3000 years old and is amongst the oldest rocks in the world which sits in the middle of the garden. An exquisitely beautiful place to visit, Lalbagh Botanical Garden is a must-visit spot.
Vidhana Soudha
Recognized as ''A temple dedicated to the nation'' by Pandit Jawahar Lal Nehru, Vidhana Soudha is the home of the State Legislature and the Secretariat of Karnataka and is one of the famous attractions in the lively and polychromatic megacity of Bengaluru. Having four entrances on all sides, four floors above ground and one underground, this magnificent structure grabs on to the title of the largest state legislative building in the country. Popularly known as the ''Taj Mahal of South India'', it is surely going to impress you with its classy composure and glorified grandiose. The entire building gets well-lit on Sundays and on public holidays which is a pleasure to the eyes.
Prime Minister Sri Pandit Jawaharlal Nehru along with the Chief Minister K.C. Reddy laid down the first foundation brick of this establishment on 13 July 1951 and initiated the construction of a monument that symbolizes the legislative sovereignty of the people of the country. Its construction took a good five years and it was ultimately inaugurated in 1956 to grow the largest legislative edifice in India. The Vidhana Soudha stands 150 meters tall and brags a graceful and exquisite-Dravidian style frame.
Bangalore Palace
The tech city of Bangalore is no less when it comes to historical architecture. The ancient lineage of the city is so incredible that it soars to prominence on its own. One such attraction is the Bangalore Palace. Known for its splendor architecture and recreation activities, the palace sees thousands of visitors every day.
The palace has huge patios, a vibrant interior, massive grounds, curved staircases, splendid towers, and a lush green garden boasting regality. For the young ones' delight, the palace also has an amusement park inside it. The architecture of the building is Tudor style and Scottish style with some gothic undertones. Stunning wooden work combined with pristine walls and interior enhances the beauty of this grandeur. The palace is home to the Wodeyar family and houses several family photos, royal artifacts, and hunting trophies which provides a perspective into the royal family and that era. You can also witness concerts and shows that are hosted on the palace grounds frequently. An admirer of classic architecture and history would take pleasure coming here.
Bannerghatta National Park (Wildlife)
Situated 22 km out from Bangalore, the Bannerghatta National Park houses a diverse variety of greenery and fauna. Spread in an area of 104.27sq. km, this wildlife sanctuary was established in 1971. The Park has several creations within its premises, which comprises India's first butterfly park as well.
Other sightseeing spots presently are ten Reserve Woodlands of Anekal Range of the Bangalore Forest Division, a zoo, an aquarium, a park for children, Crocodile Farm, and Snake Park. What is fascinating is that you can get near and privy to the staggering wildlife present here through a jungle safari, which is a must-do activity here. As you go in a boxed safari (vehicle), you are sure to witness several animals that reside in well-defined zones.
Nandi Hills
Amidst the skyscrapers and the chaos, Bangalore has an exquisite natural beauty of a hill fortress which is a sight to behold. Residing just 60km out from the megacity of Bangalore, Nandi Hills is a small and lovely town that has arisen as a perfect weekend escape for people. Though mostly known for its standpoints and vegetation, Nandi Hills is also a popular objective hold that is home to several monuments and sanctums. The place was anteriorly used by Tipu Sultan as his summer retreat and several traces of his life and inheritance can be found in the area. His summer house was known as Tashk-e-Jannat, whose painted walls, intricate archways, high pillars, and competently framed ceilings attract travelers and locals alike.
Sanctums such as Bhoga Nandeeshwar temple can also be found in Nandi Hills which is dedicated to Lord Shiva and his companions Parvati and Nandi. This temple is an architectural wonder because of its ancient existence in the area. Apart from its heritage monuments, Nandi Hills is also a star for its tripping trails, cycling routes, and adventure sport resemblant paragliding. The view from the hill is exquisite and you will literary be glancing down on the sea of clouds. A perfect place to enjoy a peaceful retreat from the life the city has to offer.
Wonder La
Wonder La Amusement Park is said to be the neat diversion ground in the megacity and attracts all those looking for a rush of adrenaline. While it's most notorious for the high-frisson dry lifts, it also features some relaxed, diverting lifts, hence giving individuality for every frequenter.
Laid on the outskirts of Bangalore on the Mysore Road, Wonder La is a great diversion water ground, featuring over 60 lifts. It's popular for its collection of " High- frisson lifts ", one of the main talking points of the ground. It also features a newly constructed, India's first " After Looping Curl Coaster ", a coaster which you do in both directions, once straight and once in after order. The water ground is fantastic as well, with a variety of slides ranging from thrilling to lagging.
Jawahar Lal Nehru Planetarium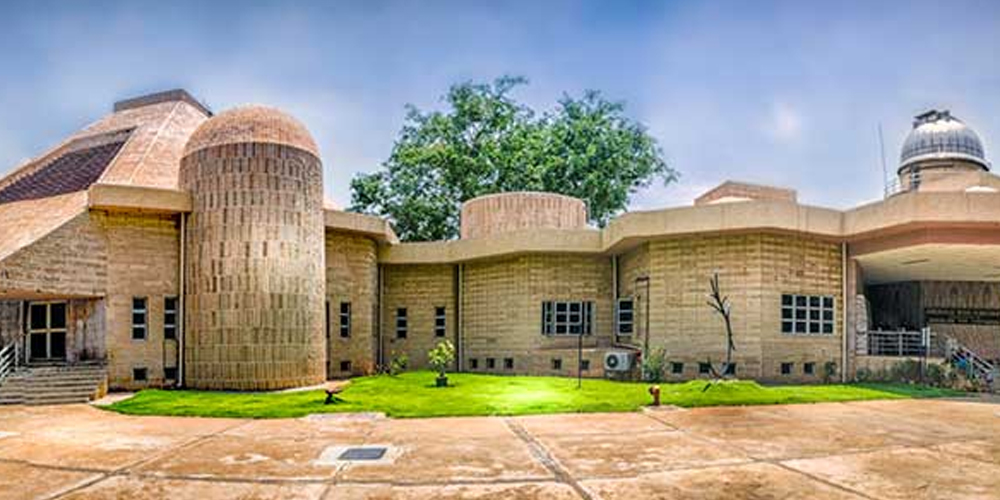 The Jawaharlal Nehru Planetarium is a fascinating establishment for non-formal lore education and is managed by the Bangalore Association for Science Education (BASE). The Planetarium has a 15-meter equator bean with a seating capacity of 210 and a projector that was fixed in 1989. There are also about 200 junior projectors that assume the night sky for a given date, time, and place. The projected images of constellations, lookouts, and special duds like solar declination are worth viewing.
The Centre carries out disparate conditioning ranging from the sky- theatre shows, knowledge exhibitions and lectures and manufactories for knowledge educators as well as pupils. The primary purpose of the Centre is to conduct quality education and nurture creative bents in knowledge to enable pupils at all footings to pursue a career in examen and instruction. There are programs for pupils from class III to graduate footing. The Planetarium is located at the heart of Bangalore, only 2 km from the Burg rail station and about 1.5 km from the Cantonment rail station.
So, these were some of the best tourist attractions in Bengaluru that make up the city's heritage and pride, and are sure to provide an enriching experience combined with the modern amenities that the tech city offers.
One more pleasant thing about Bangalore is the weather which is quite happening throughout the year so you don't have to worry about heat strokes or extreme cold temperatures. Plan your trip and have a ride full of culture, history, and magnificent architecture.