The capital city Delhi is undoubtedly one of the best places in northern India for foodies to explore. The historical city is interconnected with a vast arrangement of food options accessible in every corner of it. The best restaurants in Delhi offer sumptuous dishes from the local cuisine as well as delicacies from other popular world cuisines such as the Mediterranean, Asian, European, and of course our authentic Indian cuisine .
From conventional Indian eateries to modern-day diners, Delhi's top restaurants cater to people of every nationality and their palates. Following are some of the best restaurants you can go to for a toothsome experience .
Bukhara
The main star of the ITC Maurya, Delhi, Bukhara has been serving its customers for around 40 years. The only Indian restaurant to feature in the list of top 50 best restaurants in the world, Bukhara has seen many VIPs, famous personalities, and state heads in its premises and has become a state-of-the-art culinary institute .
Known for using the traditional cooking methods and authentic spices, Bukhara brings the flavors of Tandoor that is a clay oven, accomplishing impressively juicy meat and robust aromas. Our vegetarian foodies don't have to worry as Tandoor has long been used to prepare vegetarian meals also. A must-have is their giant tandoori naan to go with any kind of curry. To relish the full expanse of this traditional cooking method, order their sharing platter which is designed carefully to incorporate their menu's best items .
The kitchen is directed by the head chef J.P, who has been leading the kitchen for almost 30 years. The ambiance of the restaurant is modern with a traditional touch and all the wooden tables and stools give off homey vibes. The diners can rest assured that they are in great hands at Bukhara and the staff also pays special attention to hygiene .
Cost for two: ₹5000 (approx.)
Karim's
A one-hundred-year-old restaurant, Karim's is a food paradise for non-vegetarians. Located in Old Delhi near Jama Masjid, Karim's serves authentic Mughlai food hailing from the time of the Mughals. It was started by Haji Karimuddin in 1913 and is now operated by the fourth generation. Karim's is a melting pot of flavors where food enthusiasts, tourists, and food connoisseurs sit together to enjoy the delectable items authentically .
A must-try is their signature dishes like mutton korma, mutton stew, and mutton/chicken biryani which will have a blast of different Mughlai flavors in your mouth and render you in a food coma. The quality of the food at Karim's is top-notch be it a vegetarian dish or a non-veg dish. If you are craving some seekh kebab, Karim's serves the softest seekh kebab in Delhi. The restaurant has witnessed many state heads and famous personalities as its customers and has been a hot spot for many travelers and even locals for ages.
Cost for two: ₹700 (approx.)
Indian Accent
Consistently renowned as one of the promising restaurants in Delhi, the Indian Accent is worth a visit for any traveler and a foodie. Headed by Chef Manish Mehrotra, the menu of the Indian Accent is a blend of traditional Indian flavors and global technique which gives rise to a series of contemporary Indian dishes. Chef Mehrotra describes his unique way of cooking Indian dishes with international technique as "Indian food with an international accent" and this led to the naming of the restaurant .
To appreciate the heights of the restaurant, choose their six-course Chef's Tasting Menu. Accompanying the six-course menu are the wine bottles of Indian origin and some favorites from the international borders also to celebrate the detectable and scrumptious food .
Cost for two: ₹4000 (approx.)
Sagar Ratna
Craving South Indian today? Well then, Sagar Ratna in New Delhi is always ready to satiate your hunger. A chain of diners popular for their South Indian cuisine, Sagar Ratna is a family-friendly restaurant with a safe environment and comfortable ambiance .
Foodies from all over Delhi visit this restaurant to have different varieties of dosa with the delicious sambar. The south Indian thali here is a must-try with mouth-watering Dosa, Sambar, and rasam. Not only this, you can have every south Indian item such as idli, payasam, Dahi Vada, veg uthappam, etc. Along with south Indian, you can also have some north Indian items here along with gluten-free meals and vegan options. A budget-friendly restaurant with diverse food options and comfortable sitting, Sagar Ratna never ceases to amaze .
Cost for two: ₹400 (approx.)
Andhra Bhavan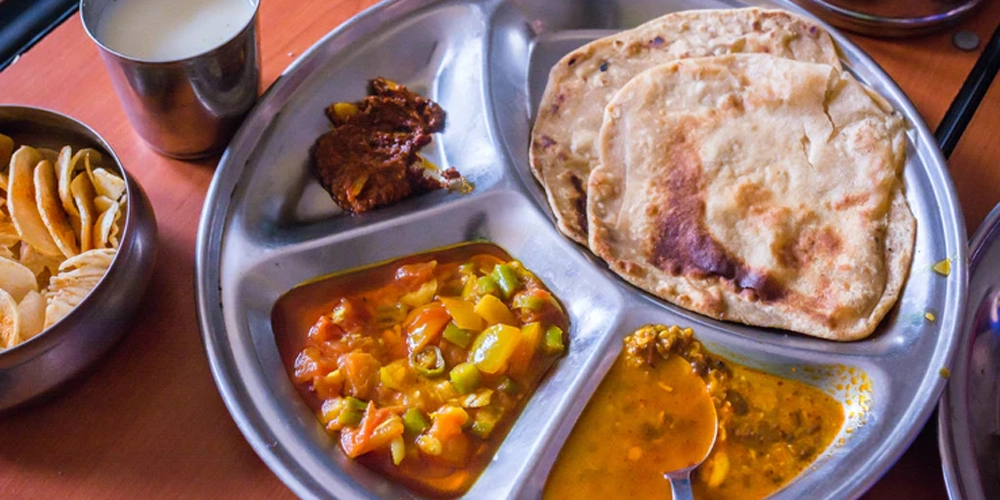 How about having a scrumplicious South Indian meal without digging a gap in your pocket? Sounds dreamy right? Andhra Bhavan, located near India Gate is a place to treat your friends and family to authentic South Indian food items without having to worry about the bill. Get a taste of both veg and non-veg items at Andhra Bhavan at a price even students can easily afford to pay .
The restaurant specializes in Andhra cuisine and what else could be best to try here than the hot and spicy Hyderabadi Biryani. Other recommended items from the menu are the Thali, mutton fry, chicken fry, chicken curry, and veg thali. Their non-veg starters such as the Guntur Chicken are also worth succumbing to. All the gravies are lip-smacking and are perfectly paired with tandoori roti. A casual diner with the aromas of Andhra Pradesh, Andhra Bhavan will quench your thirst for authentic south Indian non-veg food. And yes, don't forget to order buttermilk after the meal.
Cost for two: ₹250