When we think of Delhi the most common thought is of several historical monuments, historic sites, and delicious food. Well, it's not false in any case, but there is one more thing Delhi has which everyone loves to do (whether you say it or not), Shopping!
Delhi is not just a place for historical landmarks, monuments, and cultural centers but it is one of the best shopping destinations in the country. Below is the list of some of the most famous shopping bazaars and malls in the city that you must visit:
Dilli Haat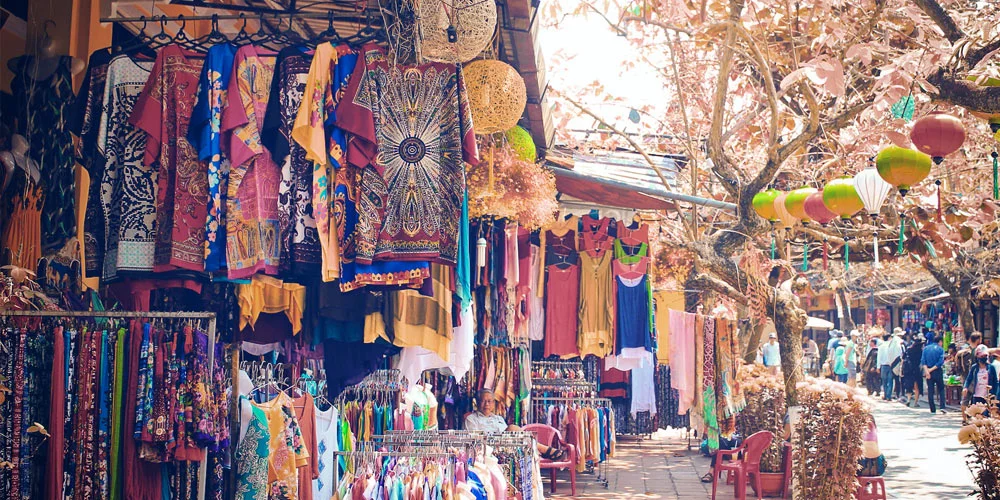 One of the best places for artifacts and authentic clothes and many other home décor items, Dilli Haat is an amalgamation of various states coming together under one single open-air complex. If you are a craft-loving person, this is just the right place for you. Situated at Sri Aurobindo Marg, Laxmi Bai Nagar, Dilli Haat is a place where you can shop your heart out and still would want more.
Some stalls or shops are permanent over here but many of them are there on a rotational basis for 15 days. Because of its diversity and products at a reasonable rate, Dilli Haat attracts so many visitors and shopaholics throughout the year. Get a taste of all the 29 states including the food such as Nagaland's Bamboo shoot chicken, Laal Maas from Rajasthan, etc., clothing, accessories, wall decor, pottery crockery, paintings, essential oils, footwear, and many more things. Once you have all the shopping done and are tired, enjoy the cultural activities and performances that happen at night now and then. A true paradise for travelers and influencers to explore all that culture, ethnicity, craft, and delicious food at an affordable price. But maintaining the Indian ritual, Don't Forget to Bargain.
Janpath Market
One of the most visited, oldest, and famous markets of New Delhi, the Janpath Market has its share of shoppers from around the place. Stretching for approx. 1.5km on the circumference of Connaught Place to Windsor Place, Janpath market is known for its originality and clothes of unique design. The overview of Janpath market is a line stretching from one place to another that has several boutiques which sell the clothes and materials that are often not found in malls and other stores in the city. The market is a heaven for shoppers and travelers with a restricted budget such as students and those who find shopping a stress buster.
You will be amazed to see how authentic and original the material you will find here is. If you are looking for an original hand embroidered Pashmina shawl from Kashmir then this is the place for you. Do not worry about the money because you will not find clothes and other materials of such originality anywhere at a reasonable price. Not only clothing, decorate your house with artistically designed carpets, rugs, brass ornaments, and wall decors all in one place. The Janpath has different sections of the market also such as Tibetan Market, Gujarati market, Flea market, etc. You will also find vendors selling small accessories such as trinkets, oxidized jewelry, handicraft items on the road. All in all, the place is worth a visit to the shop.
Khan Market
If you are the kind of shopper or traveler who is not restricted with a budget and who lives to shop, then the next one on this list is Khan Market. A very posh, classy, and expensive market, Khan Market was named after the freedom fighter 'Ghaffar Khan' or as we know him 'Frontier Gandhi'. Mostly visited by diplomats, big influencers, and common people too, Khan market is the place to shop to brighten up your Instagram profile. Known for fashionable boutiques, branded showrooms, big book stores, and book cafes, opticians, etc., the Khan market remains open till midnight.
If you are thinking that what if you have a diverse category of the list to shop from then no need to worry. Khan Market has stores for our artistic shoppers too such as handmade sheets, ornaments of colorful mache of papers, varieties of pencils, sketches, etc. Oh, how can we forget our foodies? Of course, with all that shopping anyone will feel hungry. Khan market has so many delicacies and a variety of food that will be left licking your fingers. Don't forget to try the famous Khan Chacha's speech and tikkas.
Chandni Chowk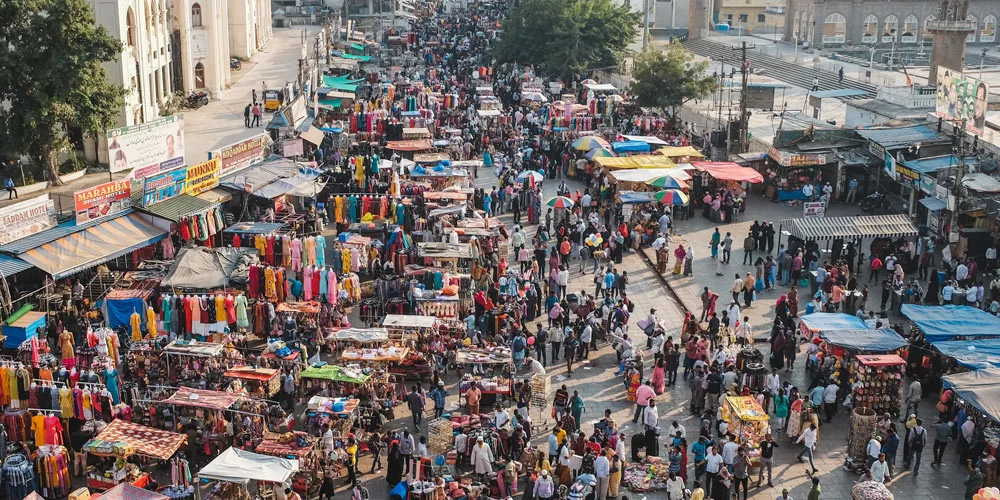 In the heart of Delhi, Chandni Chowk is a name heard throughout the country. The oldest market in old Delhi, Chandni Chowk is a market everyone must visit once in their life to have that feel of the medieval-style bazaar. Here you will find the most vibrant and very affordable items and at great quality also. It is a chaotic marketplace full of vendors and shops and stalls that you will get confused as to what should you buy and whatnot.
Constructed by the Mughal emperor Shah Jahan, the place has a historical essence and stays in the hearts of Delhiites. The narrow streets of Chandni Chowk provide an abundance of shops for clothing items, footwear of both ethnic and modern types, jewelry, accessories, earthen pots, wall hangings, books, spices, etc. You will find everything here a shopper may want to buy for themselves or their home. Save a huge amount of your precious money because you can easily get discounts and spend the rest of it on food items that are in abundance and of various variety on Chandni Chowk.
Connaught Place
When there is a talk of shopping in Delhi, Connaught Place surely hits the list. A marketplace that is mostly favored by the youth because of its ambiance and a variety of shops and brands to shop from. You want to do shopping, hang out with your friends, or just wander around to see the nearby architecture, Connaught Place serves all these things.
Connaught Place has some of the most expensive brands in the world along with local brands to house shoppers with all types of budgets. Whether you want a designer lehenga for your wedding or want to rock your office party, Connaught Place will have the dress of your dreams. Unlike the assumption that people make that Connaught Place is only meant for elites, it has flea shops also to welcome all shoppers and the very famous underground Palika Bazaar. Visit Connaught Place and take pleasure in shopping the international brands and other quality stuff from the flea market along with your friends and family and enjoy the impressive sight of the nearby monuments.
Select Citywalk
The Select CityWalk is the most admired shopping center in New Delhi. Situated at Saket in New Delhi, Select CityWalk houses the most famous brands from around the world. A true paradise for shoppers and travelers, it has a six-screen PVR hall that people can enjoy. A perfect blend of tradition and modernity, Select CityWalk is a kind of place where once you go inside you just don't have to come out to buy anything else.
Wander around with your friends, do shopping, and buy anything from clothing, footwear, home décor, travel, accessories, etc., get your stomach filled, and finish your night with a good movie, Select CityWalk is an all-in-one place.
You can take your kids on special occasions such as Diwali, Holi, Christmas, Dussehra, etc. for the decorations and the way every festival is depicted artistically. And don't be shy, we also love to see any kind of artistic decorations. It also has an open plaza for art festivals, performances, exhibitions, etc. that you can enjoy when they are up. Although, you won't get discounts like in Chandni Chowk or Janpath Market it sure is worth a visit to have a shopping experience here.
DLF Emporio
The most luxurious shopping place in the country, DLF Emporio is a shopping mall housing many of the luxury international and Indian brands. Shopping destination of most of the elites, DLF Emporio has all the Instagram and Pinterest-worthy outfits. Located at Vasant Kunz, the name DLF Emporio is a synonym for luxury. There is no other place that has such a wealthy collection of designer outfits and merchandise and lifestyle products and services under a single roof.
You also get a personal shopper who will help you in picking out the right outfit for you according to the occasion. Designers such as Manish Malhotra, Abu Jani Sandeep Khosla, Manish Arora, Dior, Armani, Bottega, Channel, Louis Vuitton, etc. are there to make you rock 'n' roll wherever you go. A restaurant to dine in after shopping and the cool and aesthetic ambiance of the mall is a great stress buster from the day-to-day hectic life.
These were some of the best shopping destinations you would find in Delhi. The state is not only famous for its street food but for some of the best shopping experiences, you can have in your life. All the streets, shops, malls have their ambiance, comfort and are unique by their nature.