varca beach
Having one of the cleanest shores, Varca Beach in South Goa is prominently known for its serene and placid environment. The beach has a 12km stretch of sparkling white sands dotted with tall coconut trees and dense foliage of wild green plants. Furthermore, the black lava-colored rocks on the beach perfectly contrast the backdrop of the green forest which adds to its charm and can be used for fishing or sun-basking. This natural phenomenon of glittering blue waters joining the spotless shore of the beach attracts many tourists to its natural beauty from all over the world. The serenity of the beach enables the visitors to revitalize themselves and invest their energy in finding peace from the hum and conundrum of the hectic urban life.
For our wanderers, there are many other beaches around Varca beach such as Colva beach, Benaulim beach, which you can also explore by hiking. Their beach is dotted with many beach shacks which serve refreshing drinks and delectable seafood along with authentic Goan cuisines. Several watersport activities such as parasailing, surfing, windsurfing, jet-skiing, etc. are organized here which is another reason why so many travelers get lured to Varca beach. There are beach resorts, hotels, and private villas where you can stay the night while still being in proximity of the stunning beach.
If you can, then must witness the beach in the early morning hours or late in the evening during the sunrise and the sunset to experience the magnificence of nature and the hues of orange, red, pink, and blue colors that envelope the sky and the water. So, if you want some quiet and tranquility in your life, then you must head over to Varca beach in South Goa. Detach for some time from the hustle-bustle of daily life and rejuvenate your soul by surrounding yourself in the greenery and the enchanting nature.
Things to Do in Varca Beach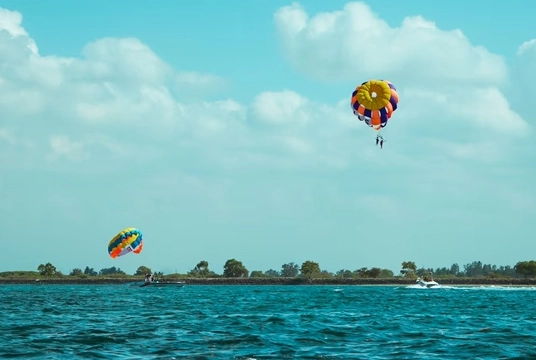 Watersports
Several water sports and adventure activities are offered on Varca beaches such as parasailing, windsurfing, jet-skiing, banana boat ride, and water skiing which lure many tourists from all over the place to try the adventure sports and feel the adrenaline rush.
Shopping
There are many stalls and shops in and around Varca beach that sell souvenirs such as Goan handicrafts, antiques, famous Goan beverages, and fresh produce from Goa. You can buy souvenirs for your loved ones and some decorative items for your home.
Enjoy in beach shacks
The cultural pavilions in Auroville host many cultural events from around 50 countries of the world. It is done to promote and showcase the diversity around us and to unite the world along with its diversities. When in Auroville, this is a must-visit place for experiencing the extravaganza of the world.
Enjoy the night parties
The night parties at Varca beach are not as vibrant as those in North Goa but still, it manages to capture your attention and keeps you dancing all through the night. Pubs such as Blue Lagoon, Sunset Bar, and Atrium Bar are some of the most vibrant places known for their night parties.
Play games or Sunbath
If you have kids with you or you have come with your buddies, then Varca beach has abundant space to play games such as volleyball or football. If you don't want to play games, then simply lay down on a beach chair or a mat under an umbrella is a stress buster activity to do.
Places to Visit Near Varca Beach
Varca beach has many places of tourist interest that must not be missed if you are visiting the beach. These are some of the popular places of tourist attraction I the vicinity of Varca beach.
1. Margao Market
2. Madgaon
3. Zuri White Sands Casino
4. Our Lady of Glory Church
5. Basilica of Bom Jesus
Places to to Eat and Enjoy Nightlife Near Varca Beach
Varca beach in South Goa is also known for its nightlife along with the serene and stunning landscape. These are some of the best pubs and lounges to spend time during the night enjoying fresh drinks and snacks and dancing your heart out.
1. Farm House Bar & Bistro
2. Waterfall Cafe
3. Carnaval
4. Neil's Cabana
5. Misha Beach Shack
To experience and revel in the nightlife of Varca Beach, visit the following pubs and lounges in the area and dance through the night to have an unforgettable experience.
1. Solo Bar
2. Atrium Bar
3. Blue Lagoon
4. Sunset Bar
5. Island Bar
How to Reach Varca Beach?
From Panaji : You can easily reach Varca beach from Panaji which is at a distance of 39.2km. take a taxi or a cab to cover the distance that will take around 45 mins to 1 hour and will cost you Rs 1200- Rs 1500.
From Goa International Airport: The nearest airport from the beach is the Goa International Airport at Dabolim. After reaching, you can hire a cab or taxi to cover the distance of 29 km to reach Varca beach that will take around 45 mins.
Best Time to Visit Varca Beach
The best time to visit Varca Beach is during the winters from November to February. The weather during this time remains pleasant and cool and the humidity level is low too. It is the peak season on the beach and thus, you will witness a heavy crowd at this time. Watersport activities are full-on motion during this time and you can enjoy delicious seafood at the beach shacks too.
The summers are very hot and humid and most beach shacks remain closed because of the low level of crowd and scorching heat. The monsoons start from June to September and because of being in the coastal region, the area sees a heavy downpour. Watersport activities are also shut during this time and swimming on the sea during the monsoons is not advisable either.